DENVER'S ST. PATRICK'S DAY PARADE
1885~2010
"St. Patrick parish and its heavily Irish congregation helped launch Denver's St. Patrick's Day festivities." writes Thomas J. Noel in his book, Colorado Catholicism, The Archdiocese of Denver 1857-1989 (published by Boulder: The University Press of Colorado, 1989),  Noel reports, "In 1885, Father Carrigan had initiated St. Pat's Day fund raising galas at the old Broadway Theater downtown.  These festivals, complete with costumes, musical entertainment, and bagpipes. attracted celebrants from throughout the city.  In collaboration with the Daughters of Erin and the Ancient Order of Hibernians, St. Patrick parish spearheaded festivities that celebrated the rich cultural and religious traditions of the Emerald Isle.  A more militant approach was taken March 17,1902, according to the Denver Times, by Captain Stephen J. Donleavey, secretary of the Denver Fire and Police Board:  He announced plans to recruit a volunteer army in Colorado in order to invade England and free Ireland.
In 1906, the Ancient Order of Hibernians organized what may have been Denver's first official St. Patrick's Day parade.  The parade was followed by High Mass with Father William O'Ryan's sermon on "Ireland's Loyalty to Patrick's Faith," a grand reception, and an evening ball..  St. Patrick's Day parades went out of style during the 1920's when anti-Catholic, anti-immigrant organizations such as the Ku Klux Klan frowned on any such displays of "un-American" ethnic groups.
Not until March 17, 1962 was Denver's parade revived when Red Fenwick, cowboy columnist for The Denver Post, and some of his 'Evil Companions Club' staged a mini-march. """Witnesses," reported The Denver Post. 'claim it was a short march: the paraders walked out of Duffy's Shamrock Restaurant (closed in 2007), went around the block, and back to the bar."  Others claim that the inaugural modern St. Patrick's Day parade came a month later, April 17, 1962, when Lord Mayor Robert Briscoe of Dublin was visiting Denver.  His Irish-American hosts took him to lunch at Duffy's; after a few hours of refreshments and lamentations about the parade, deceased since World War I, these worthies took action.  They proceeded to march around the block, proclaiming their procession a reinauguration of Denver's St. Patrick's Day Parade.  Furthermore, they established an official parade committee in 1963.
In 1963 St. Patrick's Day parade was a hit with thousands of marchers and spectators. "By 1974, crowed the Denver Catholic Register, Denver's parade "drew a crowd estimated at over 120,000 people, making it the second largest parade in the U.S."  Although this claim is contested by Boston, Chicago, Detroit, St. Paul, and other cities, Denver marchers continue to insist they are number two, if not number one."
Many Irish-American Denver police officers and fire fighters were involved in St. Patrick's Day festivities over the years, but they were not organized as a group.  George Kennedy and Danny Neery Veith of the Denver Police Department, decided it was time to organize an Emerald Society in Denver.  In 2000, at John Nallen's Irish Pub, the decision was made to combine Colorado's public safety officers into one organization- the Colorado Emerald Society (CES).  Today the Colorado Emerald Society marches in the Denver St. Patrick's Day Parade and is a member of the the National Law Enforcement Emerald Societies (NCLEES) and the Colorado United Irish Societies (CUIS).  Noel Hickey's, Celtic Tavern/Delaneys, is the official home to the COLORADO EMERALD SOCIETY.
www.denverstpatricksdayparade.org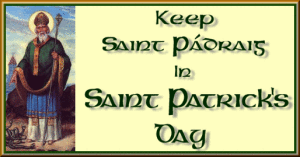 For Information: http://clanhannon.com/stpatrick/campaign.htm